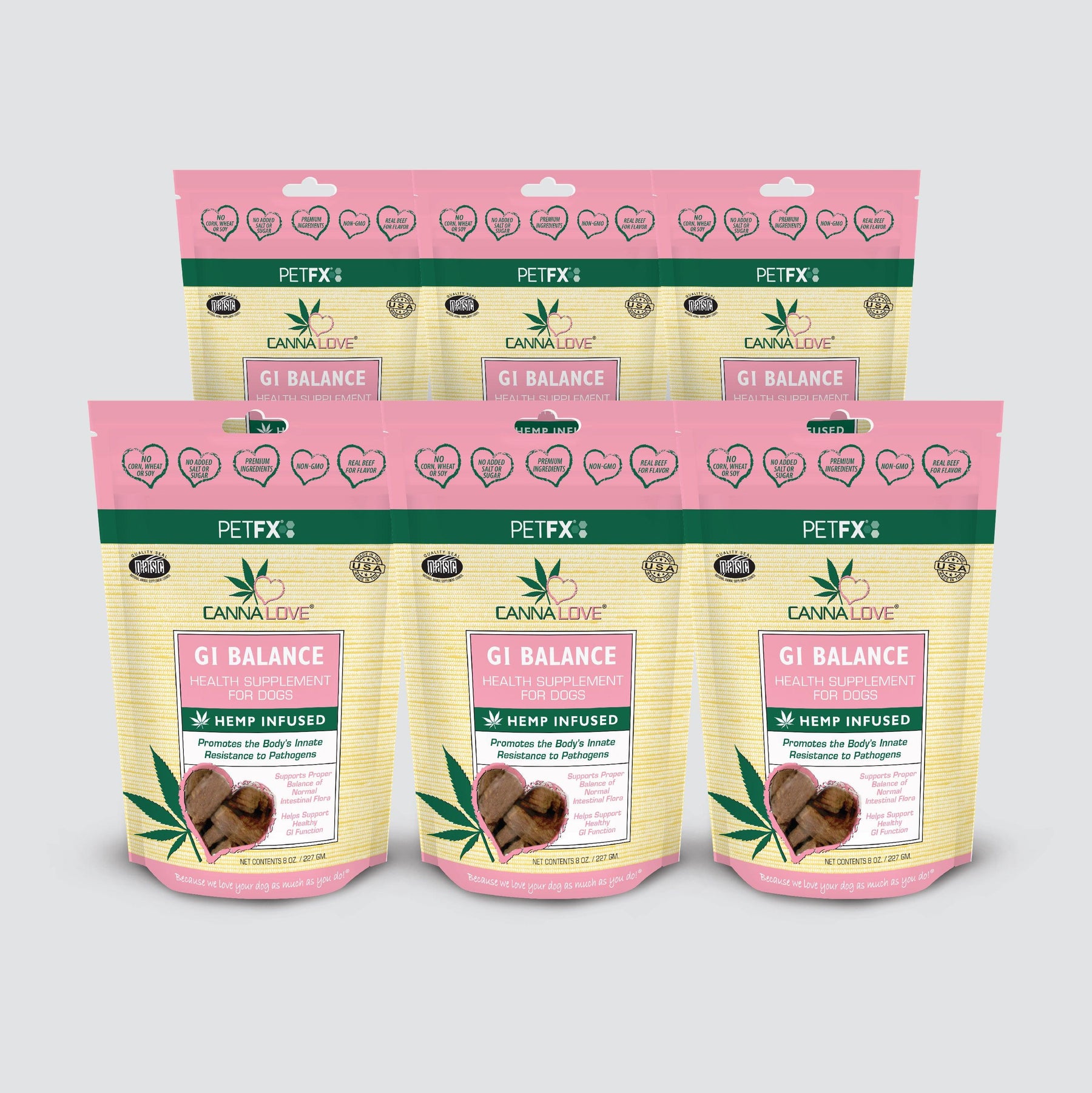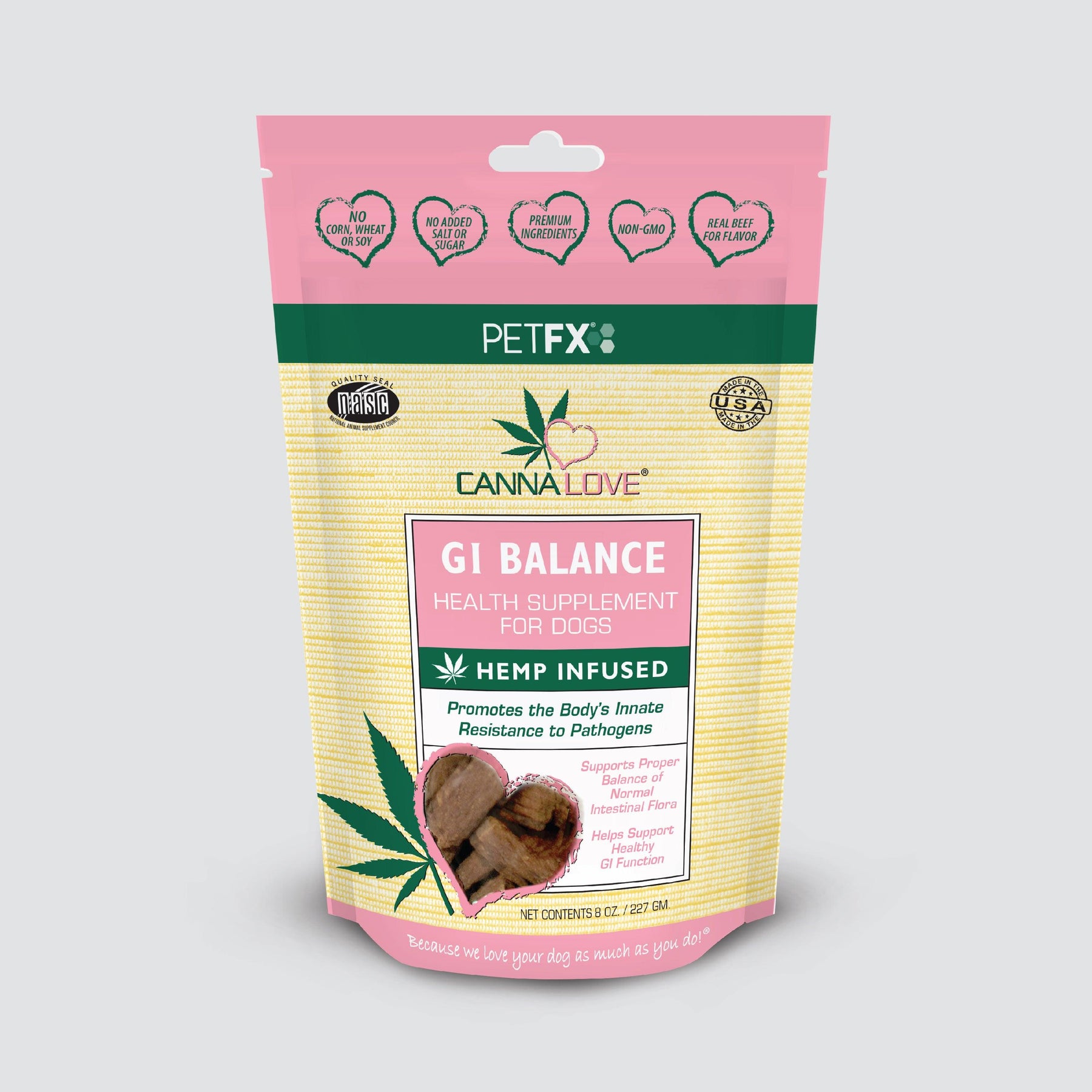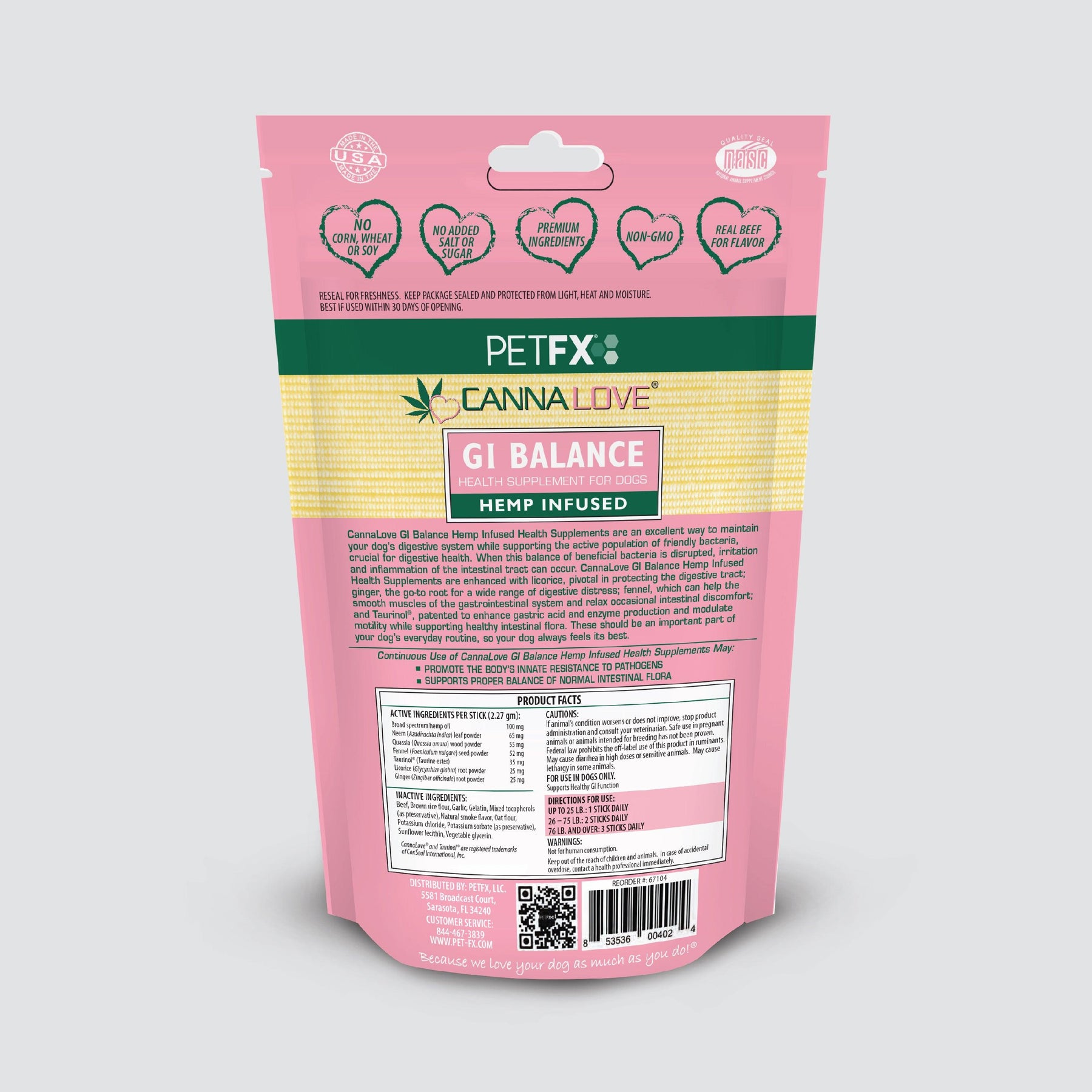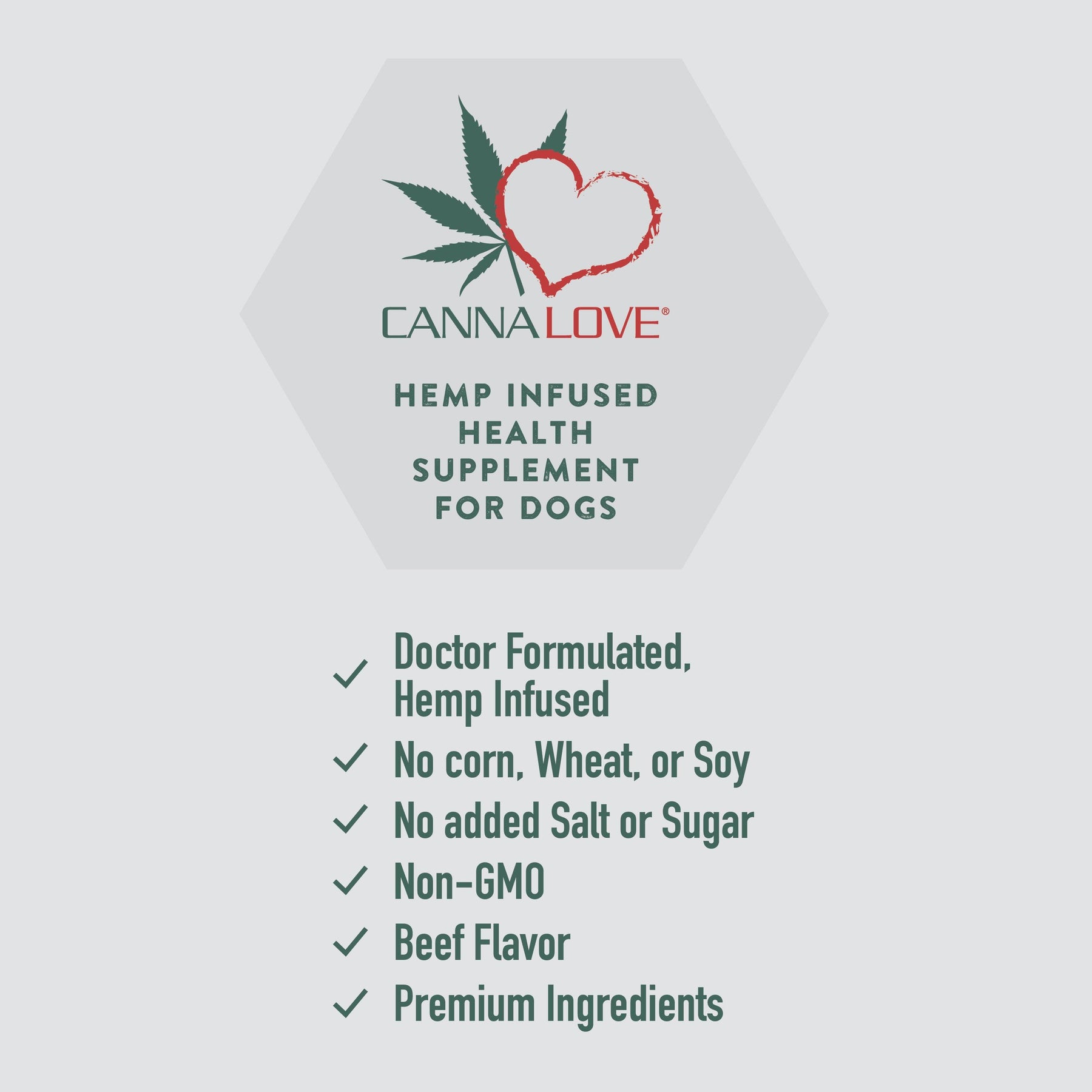 CannaLove GI Balance K-9 Health Supplement Sticks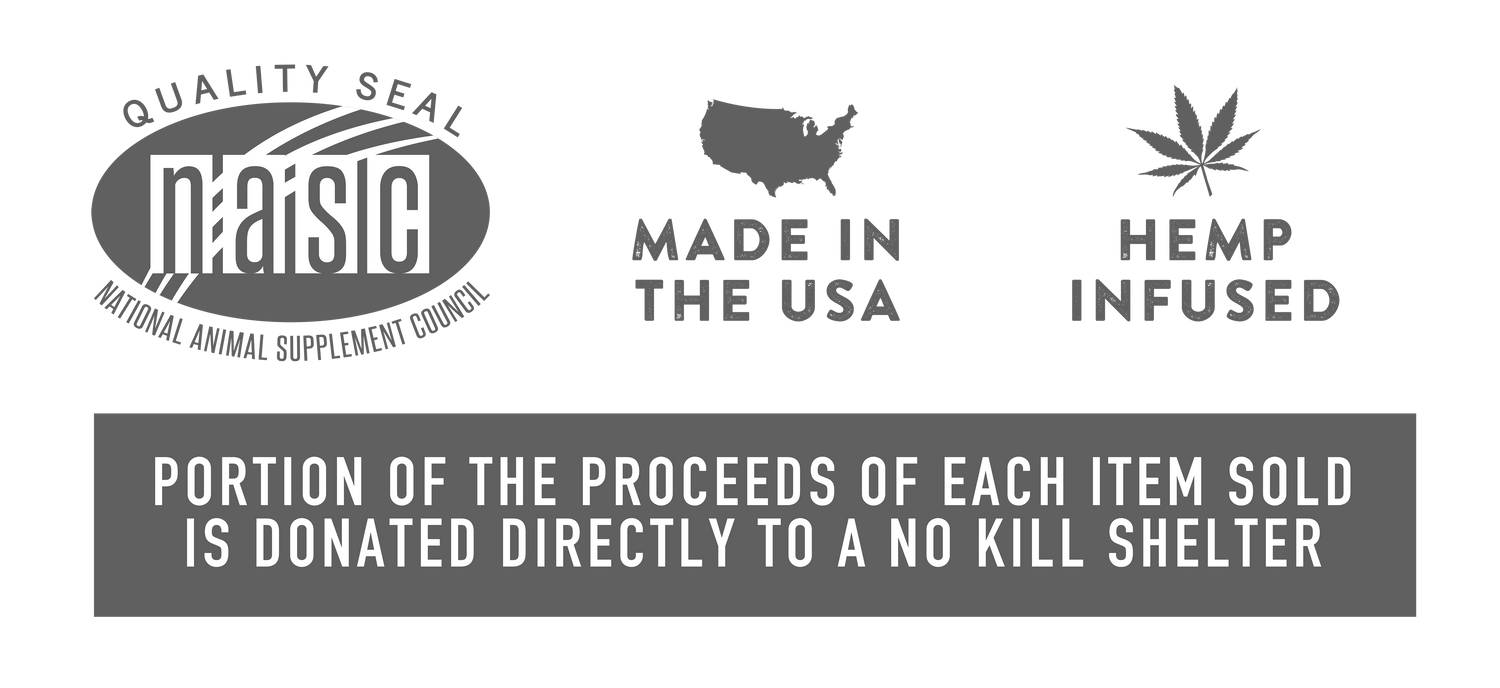 CANNALOVE® GI BALANCE HEMP INFUSED HEALTH SUPPLEMENT STICKS ARE AN EXCELLENT WAY TO MAINTAIN YOUR DOG'S DIGESTIVE SYSTEM WHILE SUPPORTING THE ACTIVE POPULATION OF FRIENDLY BACTERIA, CRUCIAL FOR DIGESTIVE HEALTH.
When this balance of beneficial bacteria is disrupted, irritation of the intestinal tract can occur. CannaLove® GI Balance Hemp Infused Health Supplement Sticks are enhanced with licorice, pivotal in protecting the digestive tract; ginger, the go-to root for a wide range of digestive distress; fennel, which can help the smooth muscles of the gastrointestinal system and relax occasional intestinal discomfort; and Taurinol®, patented to enhance gastric acid and enzyme production and modulate motility while supporting healthy intestinal flora. These should be an important part of your dog's everyday routine, so your dog always feels its best.
Continuous Use of CannaLove® GI Balance Hemp Infused Health Supplement Sticks May:
* Promote The Body's Innate Resistance To Pathogens
* Supports Proper Balance Of Normal Intestinal Flora
Patented Taurinol® taurine ester may:
• Aid in maintaining proper cellular activity and fluid balance
• Aid in providing a healthy digestive process
• Supporting the general functions of your central nervous system and eyes.
• Regulating immune system health and antioxidant functions
CannaLove® and Taurinol® are registered trademarks of ConSeal International, Inc.
| Active Ingredients per Stick : | 2.27 gm |
| --- | --- |
| Broad spectrum hemp oil | 100 mg |
| Neem (Azadirachta indica) leaf powder | 65 mg |
| Quassia (Quassia amara) wood powder | 55 mg |
| Fennel (Foeniculum vulgare) seed powder | 52 mg |
| Taurinol® (Taurine ester) | 35 mg |
| Licorice (Glycyrrhize glabra) root powder | 25 mg |
| Ginger (Zingiber officinale) root powder | 25 mg |
Inactive Ingredients :
Beef, Brown rice flower, Garlic, Gelatin, Mixed tocopherols (as preservative), Natural smoke flavor, Oat flour, Potassium chloride, Potassium sorbate (as preservative), Sunflower lecithin, Vegetable glycerin.
FOR USE IN DOGS ONLY.
Supports Healthy GI Function.
DIRECTIONS FOR USE:
Up to 25 lb.: 1 stick daily
26 – 75 lb.: 2 sticks daily
76 lb. and over: 3 sticks daily
WARNINGS:
Not for human consumption.
Keep out of the reach of children and animals.
In case of accidental overdose, contact a health professional immediately.
CAUTIONS:
If animal's condition worsens or does not improve, stop product administration and consult your veterinarian.
Safe use in pregnant animals or animals intended for breeding has not been proven.
Federal law prohibits the off-label use of this product in ruminants.
May cause diarrhea in high doses or sensitive animals. May cause lethargy in some animals.