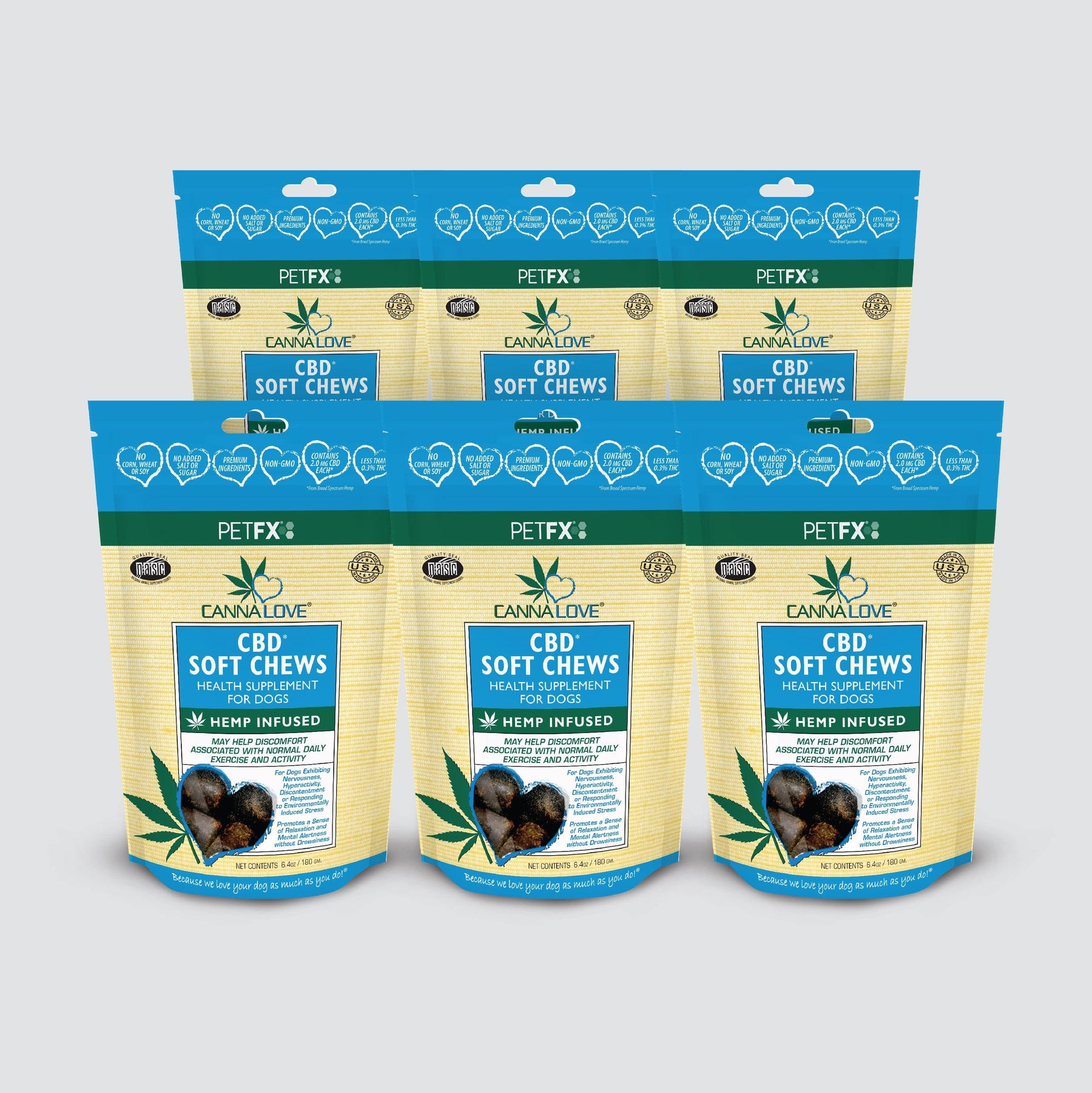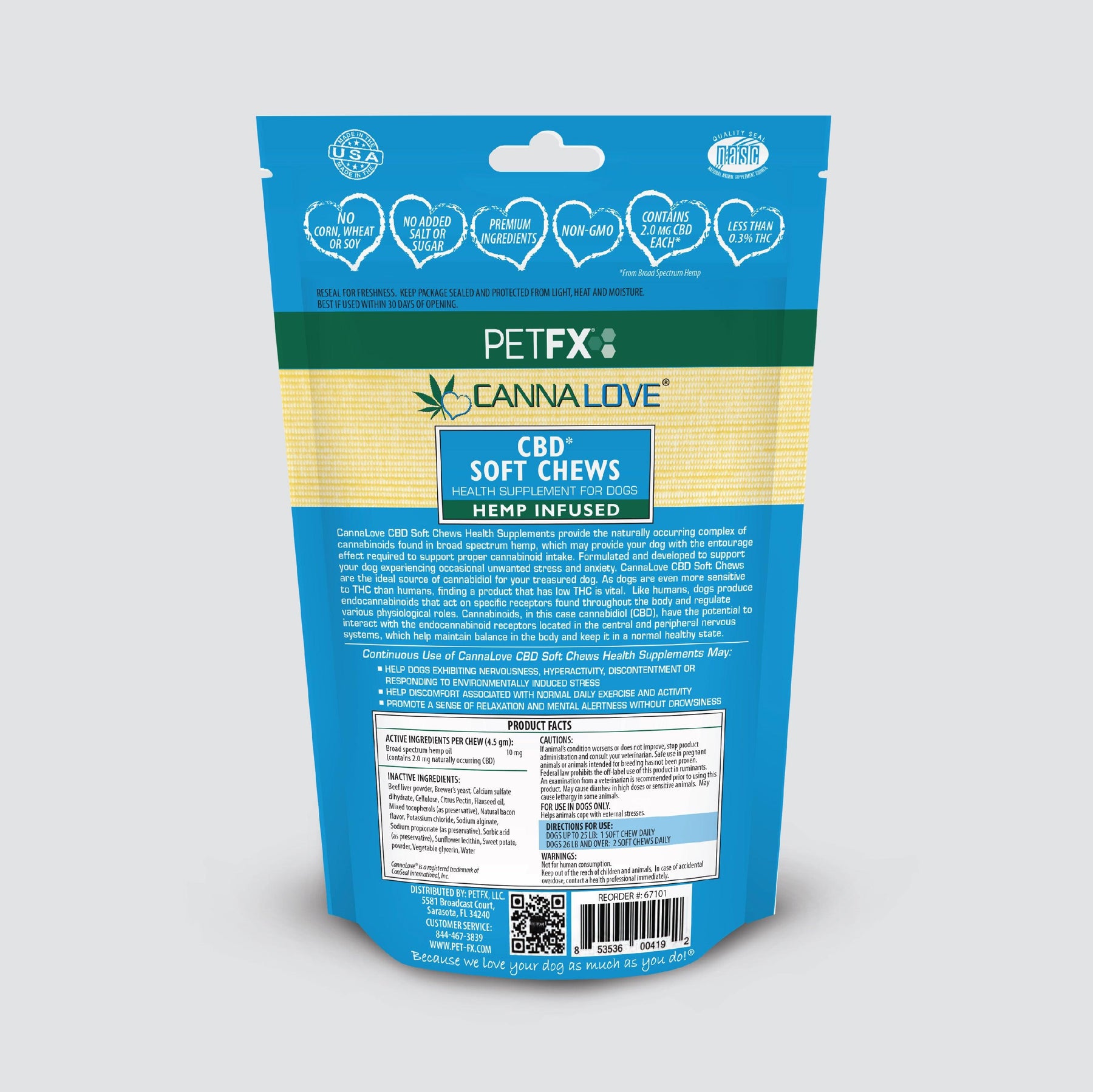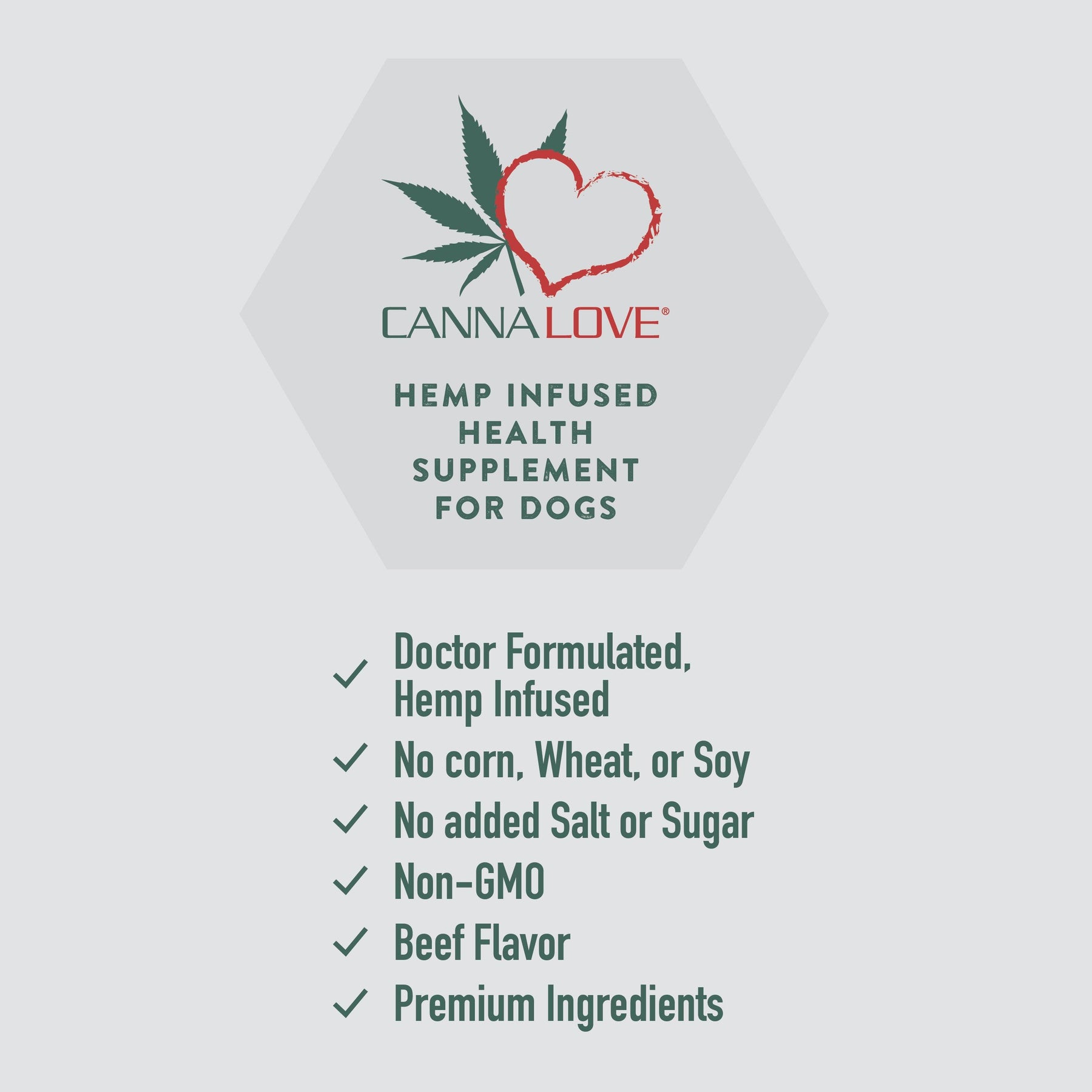 CannaLove CBD K-9 Soft Chews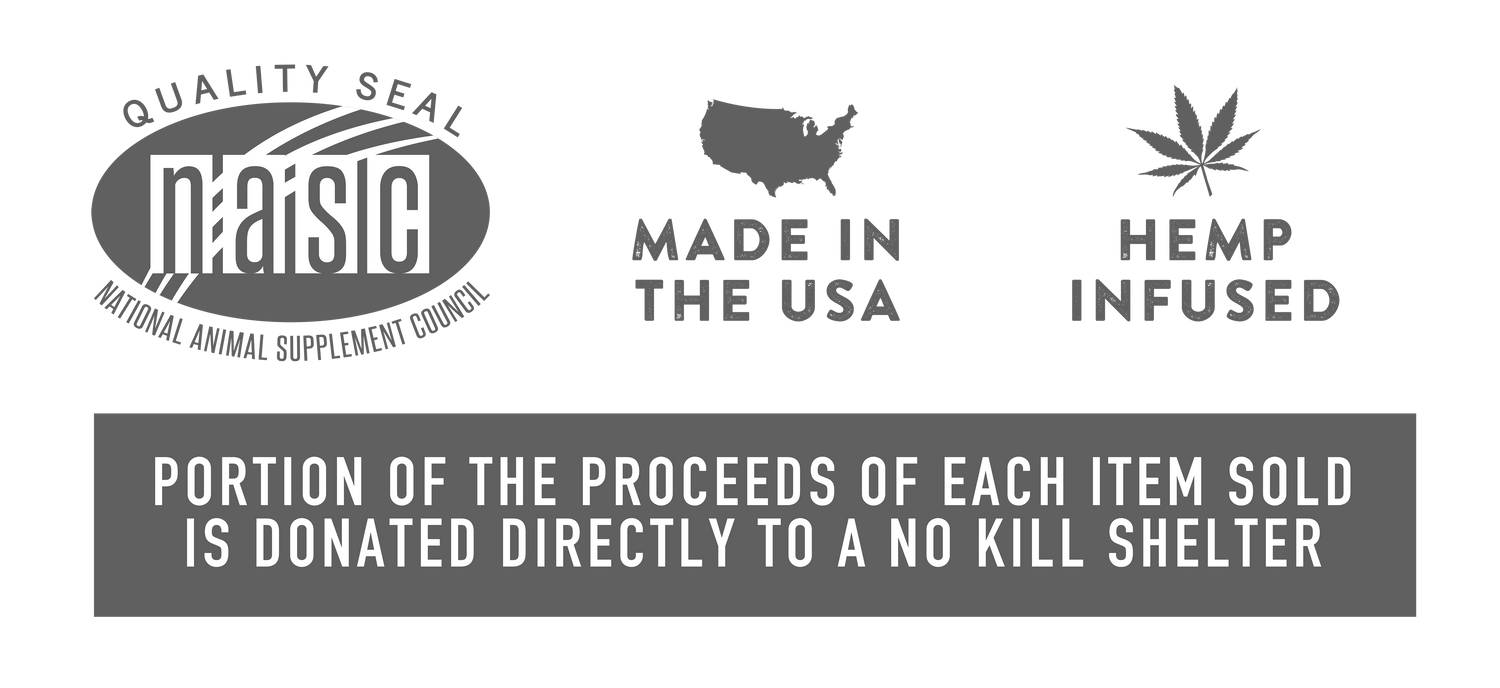 PROMOTES A SENSE OF RELAXATION AND MENTAL ALERTNESS WITHOUT DROWSINESS FOR DOGS EXHIBITING NERVOUSNESS, HYPERACTIVITY, DISCONTENTMENT OR RESPONDING TO ENVIRONMENTALLY INDUCED STRESS
CannaLove® CBD Soft Chews Health Supplements provide the naturally occurring complex of cannabinoids found in broad spectrum hemp, which may provide your dog with the entourage effect required to support proper cannabinoid intake. Formulated and developed to support your dog experiencing occasional unwanted stress and anxiety. CannaLove CBD Soft Chews are the ideal source of cannabidiol for your treasured dog. As dogs are even more sensitive to THC than humans, finding a product that has low THC is vital. Like humans, dogs produce endocannabinoids that act on specific receptors found throughout the body and regulate various physiological roles. Cannabinoids, in this case cannabidiol (CBD), have the potential to interact with the endocannabinoid receptors located in the central and peripheral nervous systems, which help maintain balance in the body and keep it in a normal healthy state.  
Continuous Use of CannaLove® CBD Soft Chews Health Supplements May:
• Help Dogs Exhibiting Nervousness, Hyperactivity, Discontentment Or Responding To Environmentally Induced Stress
• Help Discomfort Associated With Normal Daily Exercise And Activity
• Promote A Sense Of Relaxation And Mental Alertness Without Drowsiness

Patented Taurinol® taurine ester may:
• Aid in maintaining proper cellular activity and fluid balance
• Aid in providing a healthy digestive process
• Supporting the general functions of your central nervous system and eyes.
• Regulating immune system health and antioxidant functions
| Active Ingredients per Soft Chew : | 4.5 gm |
| --- | --- |
| Broad spectrum hemp oil | 10 mg (contains 2.0 mg naturally occurring CBD) |
Inactive Ingredients :
Beef liver powder, Brewer's yeast, Calcium sulfate dihydrate, Cellulose, Citrus Pectin, Flaxseed oil, Mixed tocopherols (as preservative), Natural bacon flavor, Potassium chloride, Sodium alginate, Sodium propionate (as preservative), Sorbic acid (as preservative), Sunflower lecithin, Sweet potato, powder, Vegetable glycerin, Water
FOR USE IN DOGS ONLY.
Helps animals cope with external stresses.
DIRECTIONS FOR USE:
Dogs up to 25 lb.: 1 Soft Chew daily
Dogs 26 lb and over.: 2 Soft Chews daily
WARNINGS:
Not for human consumption.
Keep out of the reach of children and animals.
In case of accidental overdose, contact a health professional immediately.
CAUTIONS:
If animal's condition worsens or does not improve, stop product administration and consult your veterinarian.
Safe use in pregnant animals or animals intended for breeding has not been proven.
Federal law prohibits the off-label use of this product in ruminants. 
An examination from a veterinarian is recommended prior to using this product. 
May cause diarrhea in high doses or sensitive animals. May cause lethargy in some animals.